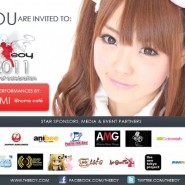 It's Dec once again, and in just less than 2 weeks, we'll all be coming together once again to celebrate another great year. Time really flies, doesn't it?
This year, our special guest is Hitomi, from @home maid cafe. For those who don't know, @home is probably the biggest maid cafe chain in the world, and they are based in Akihabara, Tokyo. Hitomi is the top maid in Tokyo, and is the number #1 most popular maid at @home. She also performs as Team Junjo, and besides Japan, she has also travelled overseas for performances.
@home occupies almost an entire building on Chou Dori Street, with another outlet just opposite the road. Chou Dori is the main street at Akihabara, where you find many otaku-ish shops. They are very well known, and they are listed on the train station map at Akihabara. If you pull out my otaku side, @home is my favourite maid cafe.
Coincidentally, Hitomi is a friend of Aikawa Kozue, our guest from DANCEROID last year.
In lieu of Hitomi's arrival, we are having a meido theme for this year, and we have meido ambassadors to take care of you at our door, they will also be around our venue area and you can take pictures with them.
Anibee.tv is also doing their cosplay ambassador hunt at our event, and the selected individual will win $500 cash, with the chance to travel around to participate in events. They have also gifts for people who register at their booth; it's completely free, so please do go to check out their booth.
As much as possible, we try to give EOY a casual atmosphere, so Hitomi will be appearing and interacting with VIP ticket holders during our lunch buffet reception. It's halal, so that everyone can enjoy the event, without having to worry about lunch.
Oh, I nearly forgot to mention that we'll be giving out free drinks to all ticket holders, whilst stocks last. They can be redeemed at the bar counter at level 1. Do also make yourself comfortable by storing your baggage at our baggage storage area, in the same areas as 2010.
EOY is also pretty well known for our stage productions, and we have a number of changes for our stage this year. There is a revised layout with a mini T-stage, which will make our performances (especially Lolita and Cosplay Runway) more interesting. We will also be flying curtains and backdrops this year too~
On top of that, we're going for a more concert stage setting this year. Though we still have an emcee (a moe meido emcee!), there will be less talking and more performances, akin to attending a live.
We have auditioned over 100 people, and have selected the best to perform for this year. Each year, we award stage time to talents within our community to perform on stage, and we hope to be able to give a beautiful stage for all the youths to perform on. The standards have continually gotten better over the years, and we've seen the most number of auditioning people this year. Be sure to catch them on stage between 1- 6pm!
Hitomi will be performing on stage at 2 pm and 5:30pm, and her autograph session is scheduled at 6:30pm at the foyer. To qualify for her autograph session, simply purchase any of her merchandise available on sale during EOY.
I will also be doing the closing around 5:15 pm and will be performing a simple piano piece. Like all the performers, we're all practicing hard for our item. We are not professionals, but we will do our best to keep you entertained!
After that, we'll also be having our 13th anniversary celebration on stage with a cake at 6 pm. It hasn't been confirmed yet, but I will request Hitomi to see if she can (when she arrives) host the celebration for us, and we can all celebrate the end of year by having cake and taking pictures together on stage. Please join us for our celebration; I want to sing a birthday song with all you guys!
Lastly, on a closing note, though it hasn't been confirmed yet, we will be shifting out of TRCC in 2012. We have shortlisted a few places, and we hope to move to a more accessible place for everyone. Vincent and myself also went to Japan earlier last month not just for play, but also to look for artistes to bring in for next year. We have also shortlisted a few potential artistes to bring in for 2012.
We have quite a few exciting changes for next year, but before that happens, I hope that you will take the time to come down with your friends to enjoy EOY 2011 at TRCC, probably for the last time. It is really a fantastic venue, so do experience it, before we move out to another venue next year.
At EOY, we aim to bring you a different experience. Just like @home maid cafe, we also hope to make you feel at home while you enjoy your day here.
To me, EOY is like family, and although it may sound a little weird, I sometimes see you all like my children. Playful you all may sometimes be, I really, really appreciate and love you guys. I have a lot of fun with you all.
Last year, I wrote an entry, promising that your welfare will always come first over monetary profits. I have not forgotten about it, and that, will never change.
Thank you for being part of this family. I'll see you at EOY once again~
Love,
Tim
Producer, EOY